Special Packaging
Market Fresh Special Packaging – Gift Wrapped Coastal Decor-Handcrafted and 100% Original!
When you open your box, you will find your iron fish, stingray, crab, mermaid, or lobster sculpture cleverly wrapped in white butcher paper (like any fresh catch is wrapped at the market) and topped with a complimentary "Iron Fish" logo decal. Each wrapped coastal sculpture is nestled in a bed of naturally colored shredded crinkle paper and covered by a natural corrugated cardboard for a beautiful presentation.
If you're giving this coastal sculpture as a gift, sit back and relax, we have taken care of the gift wrapping.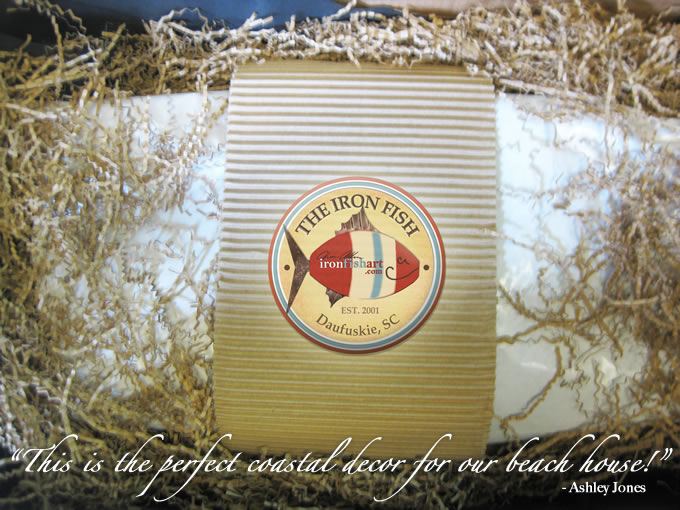 After removing the white "market fresh" wrapping paper, you will find your artwork resting and protected by a transparent protective poly bag. With each coastal sculpture purchased, you will find your official Iron Fish Certificate of Authenticity that is has an Iron Fish logo seal of approval, date and signature from the artist, Chase Allen. This Certificate of Authenticity should be filed away in a safe place for collector and authentication purposes.
Also with your purchase you will find a complimentary list written by a professional interior designer, who gives design tips on how to display your new iron fish, crab, lobster, mermaid, or stingray sculpture.
ATTENTION: for emergency gift orders (i.e. birthdays, Christmas, anniversaries, fathers day, etc), please call instead of placing the order through pay pal. There is a mandatory $45 charge for all "rushed gift orders". With the pressure of Christmas shopping always looming, please know that November 28th is the cut off for all Christmas orders this year. Remember, these coastal sculptures are HANDCRAFTED. In other words, they take time. Christmas shopping does not have to be stressful! Please plan ahead as rush orders will not be considered after December 5th. Thank you for your understanding and early ordering online at The Iron Fish Gallery!